teamRDYK Presents Our FIRST No Dip Draft War This December!
December 13, 2019

-

December 15, 2019
teamRDYK is having our FIRST OFFICIAL No Dip Draft War!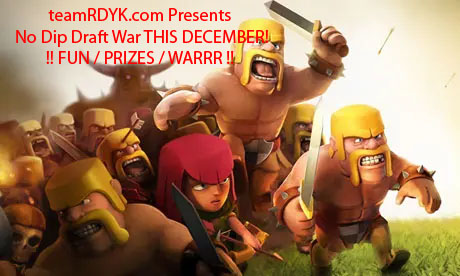 What is a No Dip Draft War?
No Dip means you can only attack your town hall level – Not higher, not lower.
Draft war means the Event Clan Leaders will draft players who signup one by once
You signup with your town hall level, hero levels, and war weights
You express interest in how you'd like to participate (Leader / War General / Player)
What's the timetables?
Signups are live: 11/11 – 11/25 (Monday, November 11th – Monday, November 25th)
LIVE Draft: 12/5 (Thursday, December 5th)
No Dip Draft WARRRR: 12/13-12/15 (Friday, December 13th – Sunday, December 15th)
What can you WIN?
crackerjack is offering a hand made, one of a kind welded trophy for the winner!
Three ten dollar gift cards for Android or iOS will be up for grabs!
How can you sign up?
To Get Your War Weight: https://www.clashtrack.com/en/war-weight