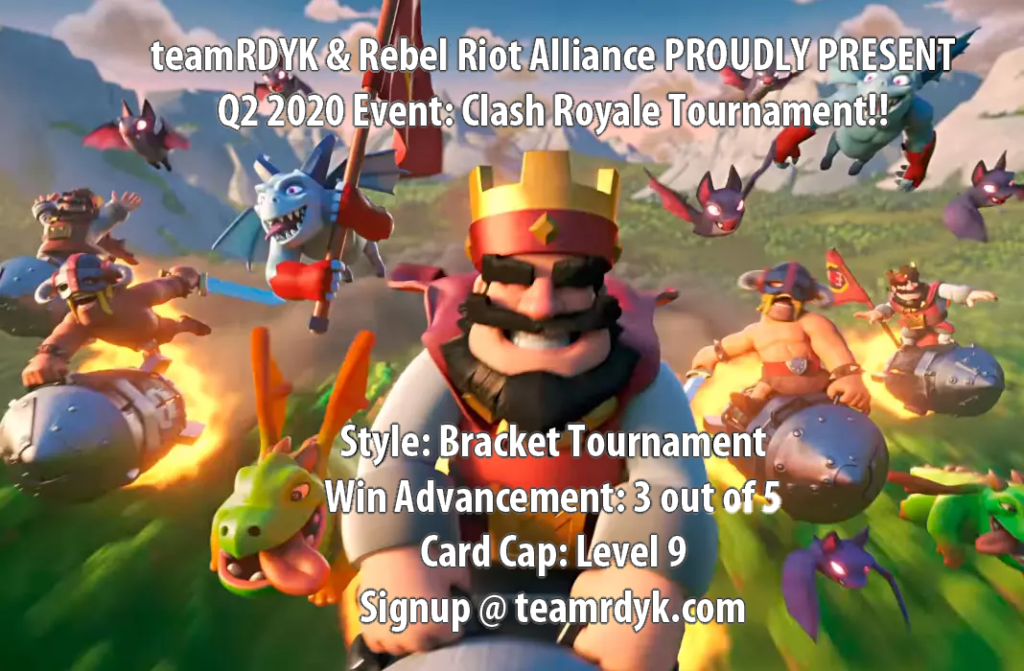 The teamRDYK and Rebel Riot Alliance are teaming up and offering a Clash Royale Event!
This will be played in the style of 3 out of 5 wins in a bracket style tournament mode!
We are not going to utilize the in-game tournament style play as we are a global community and time zones will be difficult to sync up.
Rules:
1) ALL players who sign up MUST be on Discord
2) ALL battles will be fought in Friendly mode which caps cards at Level 9
3) Winner of battles will be BEST 3 out of 5 matches
4) Deck changes per battle IS allowed
5) Spectating from a second device is NOT allowed – 3rd party spectators who want to watch the match IS allowed!
This tournament will be broken down in a BRACKET style, where each player who wins progresses further towards Victory!
Event Dates:
Clash Royale Event Signups – 4/27 – 5/7
Tournament Bracket Created – 5/9 – 5/15
Clash Royale Tournament Runs – 5/16 – 5/30
SIGNUP HERE